General Information
[
]
Parts are divided into 3 categories are Attack, Defense and Utility.
Each suit can only equip 1 part of each category.
Equipped part cannot be removed, but can be replace by equipping a new part of the same category.
Rarity
[
]
Rarity of parts range from C to S3.
Higher rarity part has better stats and more stat lines
Normal enemy can drop C to A parts. Elite enemy can drop B to S parts. Boss enemy can drops S to S3 parts
Level
[
]
Later chapters/temples drop parts with higher level than the previous one.
Higher level part has better stat and bonus attached than the lower one.
Higher Level part is usually better than lower level part even with the higher quality. (e.g. lv.81 S part could be better than lv 61 S3 part)
Enhancement
[
]
Parts can be enhanced to improve their stats and bonus options.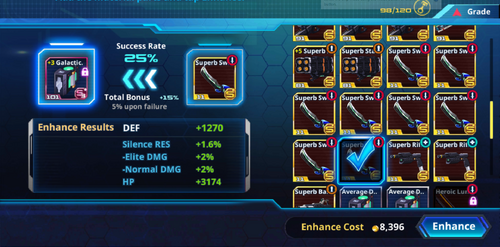 The cost to enhance a part is another part of the same or lower rank and a few credits. Using a part of a lower grade to feed an enhancement will give a chance for the enhancement to fail. When an enhancement has failed, the next enhancement on said part will have a small bonus success rate that can stack additively upon each failure.
The success rates of an enhancement and their upon-failure bonus, based on the fodder part grade are as follows:
The same grade: 100% success rate
1 grade below: 50% success rate, 10% bonus upon failure
2 grades below: 25% success rate, 5% bonus upon failure
3 grades below: 10% success rate, 2% bonus upon failure
4 grades below: 5% success rate, 1% bonus upon failure
A part cannot be enhanced with a fodder part that is 5 grades below. Thus, a C grade part cannot be used to enhance an S3 part.
Upon each successful enhancement, the parts' stats and bonus options will improve by 10% of their base number. The parts name will also have +# added to it, with # being the number of successful enhancement the parts had undergo. Each part can only be enhanced 5 times, so a +5 part with 50% bonus to their base stats is the limit to how far it can improve.
Recommended Bonus
[
]
Table below presents the recommended bonus on part for a general propose. Please, keep in mind that some pixies/suits might require a different setup.
| | Attack | Defence | Utility |
| --- | --- | --- | --- |
| 1 | CNTR | Normal DMG | CNTR |
| 2 | Penetration | Elite DMG | ATK |
| 3 | ATK | Boss DMG | HP |
| 4 | CRT% | HP | DEF |
| 5 | DMG vs Normal | DEF | Accuracy |
| 6 | Accuracy | Stun RES | STNΩ |
| 7 | DMG vs Elite | Acid RES | ACDΩ |
| 8 | DMG vs Boss | Freeze RES | FRZΩ |
| 9 | CRIT | Silent RES | SILΩ |
| 10 | | Evasion | Evasion |
| | Attack | Defence | Utility |
| --- | --- | --- | --- |
| 1 | Accuracy | Elite DMG | Accuracy |
| 2 | Penetration | Normal DMG | ATK |
| 3 | ATK | Boss DMG | HP |
| 4 | CRT% | HP | DEF |
| 5 | CRIT | DEF | CNTR |
| 6 | DMG vs Elite | Stun RES | STNΩ |
| 7 | DMG vs Normal | Silent RES | SILΩ |
| 8 | DMG vs Boss | Freeze RES | FRZΩ |
| 9 | CNTR | Acid RES | ACDΩ |
| 10 | | Evasion | Evasion |
| | Attack | Defence | Utility |
| --- | --- | --- | --- |
| 1 | Penetration | Elite DMG | ATK |
| 2 | ATK | Normal DMG | CNTR |
| 3 | CNTR | Boss DMG | HP |
| 4 | Accuracy | HP | DEF |
| 5 | CRT% | DEF | Accuracy |
| 6 | DMG vs Normal | Stun RES | STNΩ |
| 7 | DMG vs Elite | Silent RES | SILΩ |
| 8 | DMG vs Boss | Freeze RES | FRZΩ |
| 9 | CRIT | Acid RES | ACDΩ |
| 10 | | Evasion | Evasion |
| | Attack | Defence | Utility |
| --- | --- | --- | --- |
| 1 | Penetration | Elite DMG | ATK |
| 2 | ATK | Normal DMG | HP |
| 3 | CRT% | Boss DMG | DEF |
| 4 | CRIT | HP | CNTR |
| 5 | DMG vs Elite | DEF | STNΩ |
| 6 | DMG vs Boss | Stun RES | FRZΩ |
| 7 | DMG vs Normal | Freeze RES | SILΩ |
| 8 | CNTR | Silent RES | ACDΩ |
| 9 | Accuracy | Acid RES | Accuracy |
| 10 | | Evasion | Evasion |